5 sustainable and immersive trip ideas
British Columbia is home to no fewer than 203 different Indigenous communities across this region of Canada, who speak more than 30 different Indigenous languages.
A History of Persecution – Indigenous Peoples in Canada 
Indigenous Canadians comprise First Nations, Inuit and and Metis groups, and across Canada are thought to total over 1.6 million people, or around 5% of the Canadian population, according to the 2016 census. Indigenous Canadians in BC are largely from First Nations groups.
Across Canada, as in many other countries around the world, indigenous culture has a long and tragic history of repression in BC and the rest of Canada: Through seizure of Indigenous-held lands and Cultural Genocide. Treatment and persecution of Indigenous Canadians has only started to be exposed as a darker side to Canada's history in the last few years, and the Indian Act – a controversial law that was used for the repression of Indigenous Canadians remains in existence today.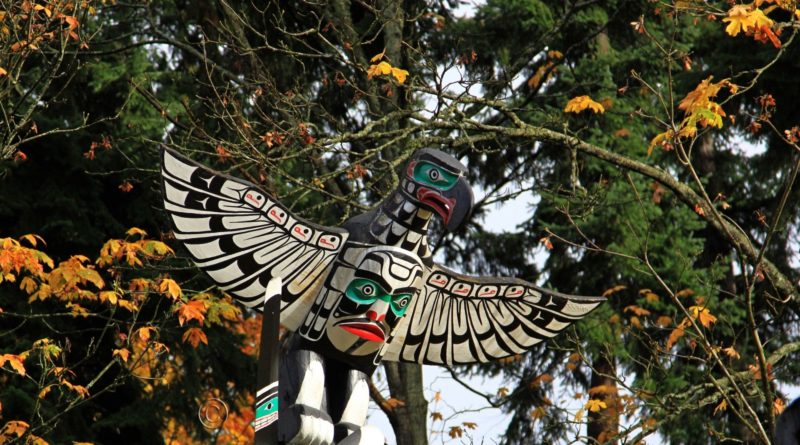 There has, however, been a change in much of the public awareness toward the debt that Canada owes to its indigenous communities for taking care of the land. British Columbia is one of the best places to visit in Canada to celebrate First Nations Culture in Canada. And contribute in a positive way towards preserving the heritage and culture of First Nations communities.
Supporting First Nations Communities through Tourism in BC
BC has some wonderful ways to support and celebrate indigenous Canadian culture when you visit – from wildlife explorations which share knowledge about the deep and long-held bond between First Nations and the land, to museums and art galleries that showcase indigenous culture, to lodges and hotels run by First Nations people.
Here are some of our favourite experiences. Or, get more inspiration on the Indigenous Tourism BC website.
Search for the Spirit Bear in the Great Bear Rainforest
In remote northern BC, venture into the Great Bear Rainforest, around 400 Spirit Bears (called moskgm'ol in first nations language) still roam. The animal is considered sacred by the First Nations. Stay at Nimmo Bay Resort.
Home to historical and cultural objects, contemporary arts of the Musqueam set among chinese gardens in south Vancouver.
Set in a traditional north-west coast longhouse, admire totem poles, carvings and prints. Check the calendar for events at this popular gallery.
Canoe into Local Culture
Coastal BC and the Islands are the perfect place to learn to canoe a traditional first nations canoe and explore about maritime first nations culture. Canoe tours are offered by multiple operators, such as Tayaka Tours usually between May – October.
Bathe in Ancient Hot Springs, heated by the Earth
Believed to be ancient medicine by indigenous people of BC, there's no better way to soothe your muscles after lots of outdoor activity. Clayoquot wild offer hot springs & wildlife tours that give an insight into indigenous culture.
Image: https://www.twenty20.com/photos/5080e933-6260-4a4c-94e2-312539e51009
Tips for exploring Indigenous BC
Many remote lodges, small cruises and wildlife tours (only) run from April /  May to October or November. Some locations – such as the Great Bear Rainforest are very remote and the easiest way to access them is by flying in, others are accessible by road.
Respectful vocabulary to celebrate indigenous culture in Canada is evolving. But generally the best terms to use are Indigenous or First Nations. Terms such as "natives" "eskimos" and even "aboriginals" are less used or may have negative reverberations. If in doubt, ask your guides on what terminology is best to use.
Discover more ethical and sustainable travel idea for British Columbia.
Our Other British Colombia Posts
British Colombia In The Winter
Best Forests In British Colombia
Best Lesser-Known National Parks In British Colombia
British Colombia Wildlife Experiences
The Great Bear Rainforest In British Colombia
Best Islands In British Colombia
Travel Inspiration and Inside from Positive Travel