At Positive Travel we are passionate about travel, the planet and people. We believe travel is transformational on a personal, community and global level. It can be a powerful vehicle to drive environmental actions and societal change.
why we do it
Travel brings us closer to nature's wonders, diverse cultures and traditions. It also makes us increasingly aware and conscious of the fragile beauty of eco-systems and emerging social issues.
We aim to inspire people to become more positive and mindful when travelling. We aspire to create a generation of conscious travellers who discover and explore the places they visit with respect. To achieve this, we need the help of the whole travel community.
As a traveller you may feel strongly about wildlife protection, plastic waste, fair pay and indigenous and child rights, to mention but a few. But how do we ensure our travel choices have a positive impact on the environment and the communities we visit?
Positive Travel was created out of this very need for travellers to have reliable and easily accessible knowledge and tools about the environmental and social impact of travel. Resources that allow us, as travellers, to make informed decisions and choices on how we shape our travels: from where we stay and eat, to how we move and what we do and see. This is how the 12 +principles were born. Each one of them is linked to an environmental (PLANET), social (PEOPLE) or economic (POTENTIAL) concern we may have as travellers.
what we do
At Positive Travel we educate, inspire and help people experience places more positively for them, the planet and people.
We provide an objective, independent and transparent view of the impact destinations, activities and hosts have on the environment and local communities.
We verify and research travel, leisure and recreation topics to produce indexes, ratings and a directory of "Mystery Guest" checked properties and activities.
We curate checked destination and activity guides, create videos, articles, tips, infographics, maps and directories, according to the 12 +principals.
We give travellers the knowledge and tools they need to plan their trip and experience places and people mindfully and consciously.
We aim to make travel more ethical, respectful and sustainable.
We are not a travel agent, an event or booking company we are an independent organisation and a social enterprise that develops and promotes best practices, principles and standards for responsible and sustainable travel.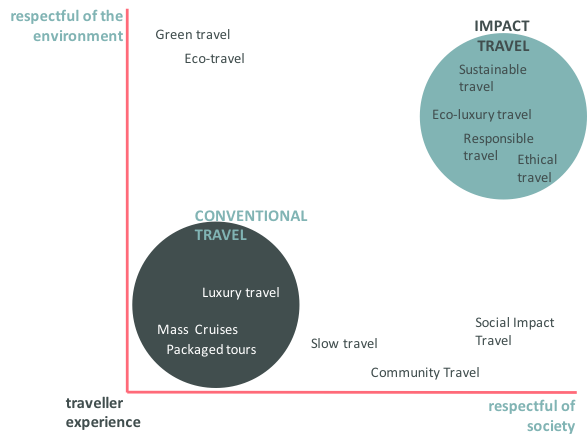 Terms such as eco-tourism, ethical, responsible and sustainable travels are used loosely to describe different aspect of the same thing: the impact our travels have on economies, society and the environment. This is why we have decided to use a term that unites all of the above: positive travel.