be part of the lifestyle & travel movement for healthy oceans
30% of all leisure travel is costal and marine and its activities are closely linked to the health and well-being of marine life.
40% of people live within 100km from the coast and 3mn depend on the ocean for their livelihoods.
Its estimated total annual value is $500-700bn, while the annual value of reef recreation only is a staggering $36bn.
At Positive Travel we believe that travel and leisure play a key role in marine life conservation and regeneration.
The Positive Oceans index presents objective indicators, scores, rankings and travel tips. It aims to create awareness about marine life activities and issues in destinations, and enable you as a traveller to make choices towards being more conscious and mindful ocean visitors.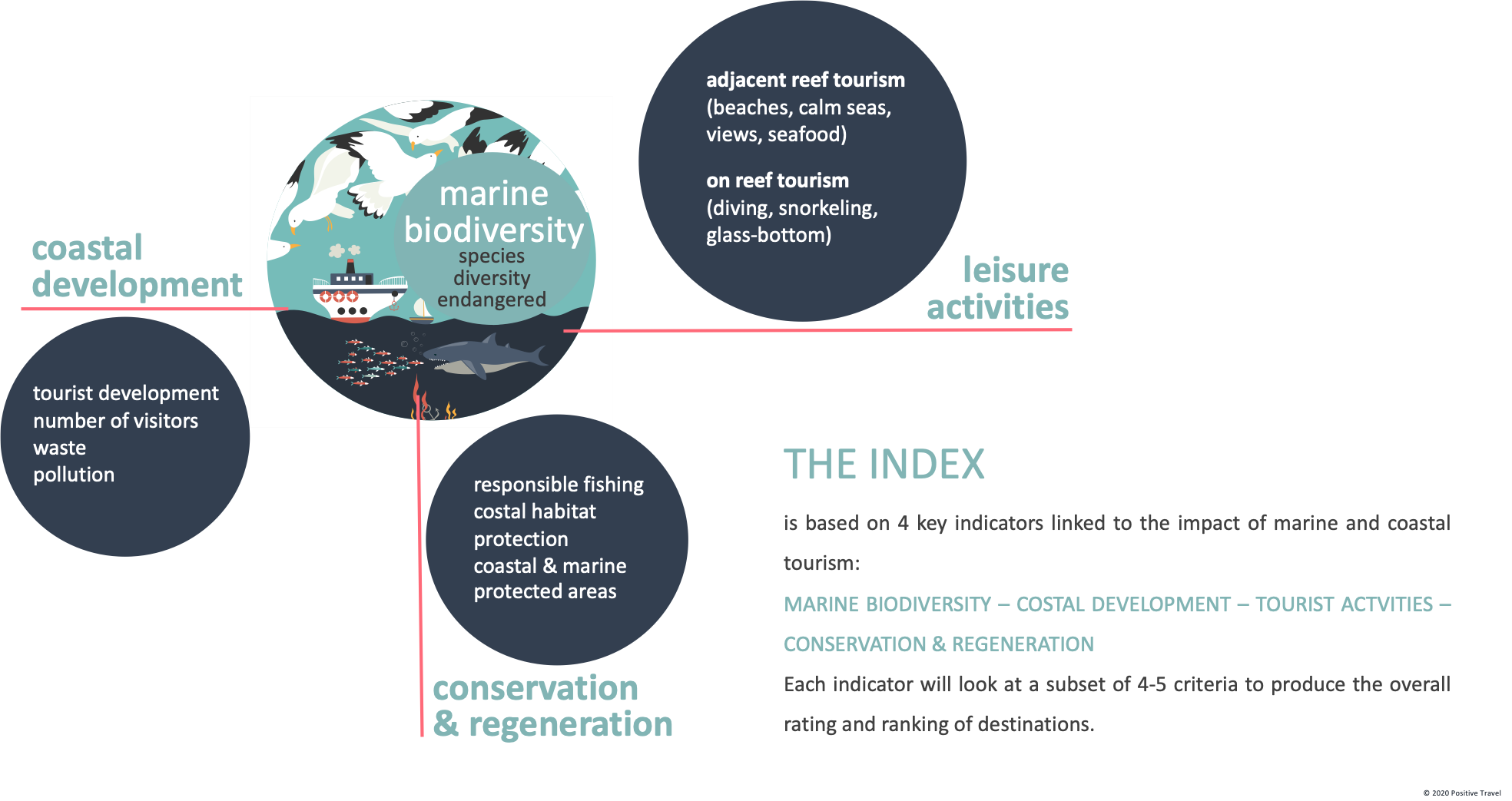 The Positive Oceans Index evaluates the way travel, leisure and recreation impact coastal and marine geographies on environmental, social and economic level by focusing on 4 key indicators:
Marine Biodiversity . Coastal Development and Infrastructure . Leisure Activities . Conservation & Regeneration

| Country | Rank | Overall Score |
| --- | --- | --- |
| Australia | 1 | 7.8 |
| New Zealand | 2 | 7.6 |
| Canada | 3 | 7.2 |
| Malaysia | 3 | 7.2 |
| Papua New Guinea | 5 | 6.8 |
| Maldives | 6 | 6.7 |
| Mexico | 6 | 6.7 |
| Madagascar | 8 | 6.6 |
| Indonesia | 8 | 6.6 |
| Samoa | 8 | 6.6 |
| France | 11 | 6.5 |
| Brazil | 11 | 6.5 |
| Costa Rica | 13 | 6.4 |
| Seychelles | 13 | 6.4 |
| USA | 13 | 6.4 |
| Ecuador | 13 | 6.4 |
| Greece | 17 | 6.3 |
| Sri Lanka | 18 | 6.2 |
| South Africa | 19 | 6.1 |
| Panama | 19 | 6.1 |
| Fiji | 19 | 6.1 |
| Colombia | 19 | 6.1 |
| Portugal | 23 | 6 |
| Philippines | 24 | 5.9 |
| Belize | 25 | 5.8 |
| Spain | 26 | 5.7 |
| Thailand | 27 | 5.6 |
| Palau | 27 | 5.6 |
| Italy | 29 | 5.5 |
| Jamaica | 30 | 4.6 |