5 immersive tree travel experiences not to miss in Japan
Japan is well known for its culture and traditions. And though many people visit Japan for its bright lights and exciting cities, many traditions take place in, and revolve around, the natural world. Japan is a place graced with breathtaking landscapes – from natural forests, to glorious gardens. Learning more about these tree traditions in Japan will help you discover some of its most beautiful places, and see some of the most fascinating elements of Japanese culture.
Forest Bathing (Shinrin-yoku)
Forest bathing is a holistic therapy often prescribed to busy city dwellers in Japan. The idea for this medical practice sprung from older traditions and beliefs in the 1980s, when the ill-effects of the tech boom and frenetic city life began to make themselves clear.
Japanese studies have shown that spending time simply relaxing in a natural forest environment can improve sleep quality, mood, ability to focus and bust stress. Living in a concrete jungle can cause nature deficit disorder. Spend some time in a forest and it will stimulate the senses, yet give enough calm to allow a moment of peace. Older concepts like meditation and mindfulness tie into forest bathing. A forest provides the perfect environment for emptying the mind of idle thought, and for practicing active awareness of your surroundings.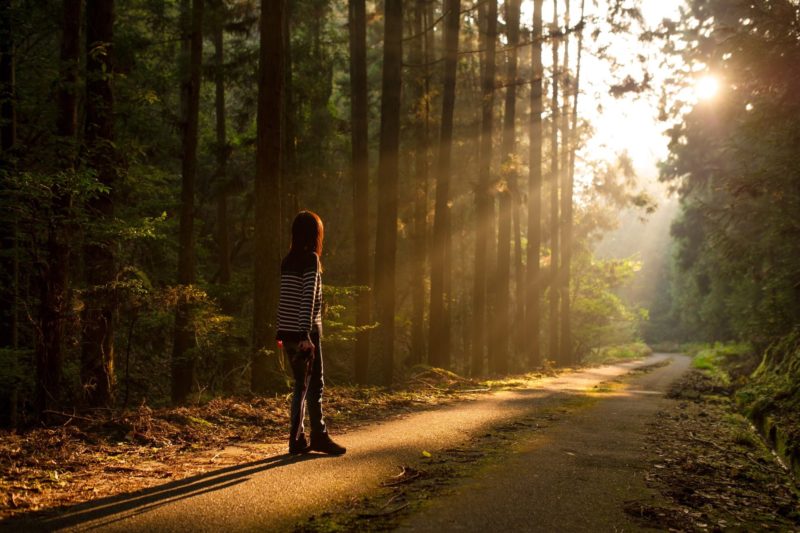 All over Japan, centers can be found which specialise in this practice. They offer organised tours with a guide or therapist based on your personal needs. You could also simply take a DIY approach, and head out to spend time in one of Japan's stunning national parks. Head to the Japan Alps for a hike, explore Yakushima National Park, which inspired 'Princess Mononoke', or take a spiritual retreat to the sacred forests of Yoshino-Kumano.
Japanese Garden Trees (Niwaki)
Japanese gardens are very distinctive in style. They are created to suggest an ancient and faraway natural landscape, and to embody Japanese aesthetics and philosophical ideas. Nothing is positioned idly or according to change and every element is carefully chosen and composed – almost like a painting or photograph.
Trees in Japanese gardens are often carefully chosen and arranged for their autumn colours. They are also trimmed to frame a view, or to prevent them from blocking a view of another part of the garden. Their growth is controlled using niwaki (garden tree) techniques to give them beautiful shapes and make them look more ancient.
There are many beautiful gardens in Japan, too numerous to name. Some feature excellent examples of niwaki, while others showcase other interesting elements of Japanese gardening. Kenroku-en in Kanazawa, Koraku-en in Okayama, Kokedera and the gardens surrounding the Adachi Museum of Art in Kyoto, Shinjuku Gyoen and the Imperial Palace Gardens in Tokyo, and Ritsurin Koen in Takamatsu are just a few sublime examples.
Bonsai Cultivation
Speaking of shaping trees to pleasing forms, another tree tradition in Japan is the art of bonsai (literally 'tray planting'). You may be familiar with this traditional art. It involves producing small trees in containers that mimic the shape and scale of full size trees.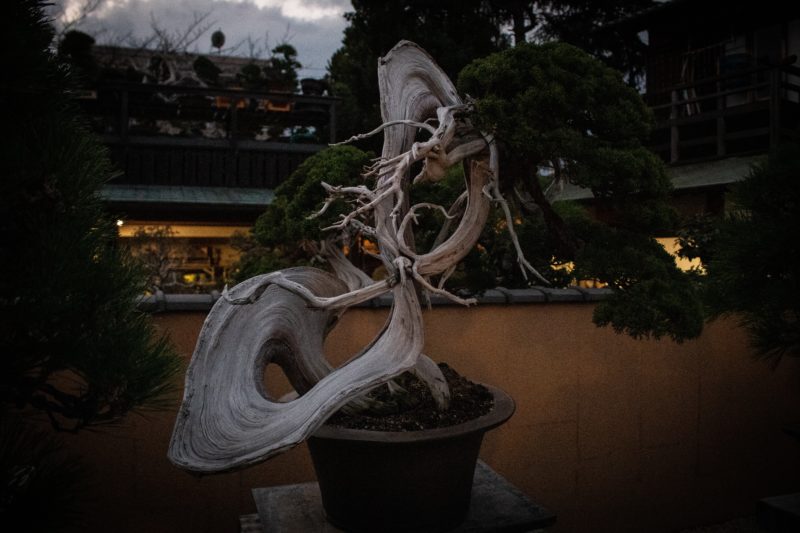 If you are interested in this art, one of the oldest-known living bonsai trees,can be seen in the Tokyo Imperial Palace collection. It is considered one of the National Treasures of Japan.
Cherry Blossoms (Sakura)
The cherry tree and its blossoms hold a very important place in Japanese culture and traditions. The cherry blossom with its beauty and short life span is an important symbol of transience and the ephemeral nature of life. This is a concept that not only imbues Japanese garden style, but permeates all elements of art and culture in the country. The concepts it embodies are central to Zen buddhism. The blossoms and images of it will be a common site if you spend much time in the country.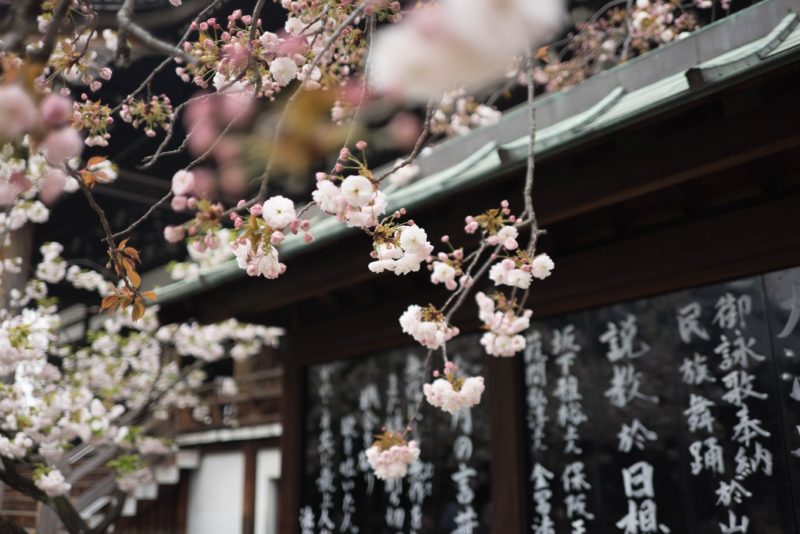 Blossom Viewing (Hanami)
One of the most important tree traditions in Japan is the flower viewing, called Hanami. At the time in spring when the cherry, and also plum blossoms are in bloom, thousands of people across Japan, and from around the world come to view the trees' stunning natural displays.
Shinjuku Gyoen, mentioned in the list of gardens above, is a great place to view cherry blossoms. But there are also plenty of other wonderful places to do so. In this and a number of other parks and gardens, temporary lighting and decorations are hung in trees. So you can enjoy the blossom at night as well as during the day.
The custom is so popular that the weather bureau announces the Sakura-Zensen (forecast for when the trees will bloom). The timing can vary, but it is generally between the end of March and early May, depending on the climate and variable weather conditions each year.
Eating Cherry Blossoms
In Japan, you may not only view the blossom. You may also enjoy its taste too. During cherry blossom time, many goods and items of confectionary are sold which have the flavour of these delicate blossoms. The blooms have a mild and floral flavour, with a slight bitterness disguised with added sugar for an overall sweet and floral taste. The overall impact is quite like a subtle cherry taste.
Autumn Leaf Viewing (Momijigari)
Momijigari (literally 'red leaf hunting') is the name given to autumn leaf viewing or 'leaf peeping' in Japan. As with the cherry blossom season, an autumn foliage forecast is also released each year. Many people also make their way to natural beauty spots and gardens to enjoy the natural displays of vivid autumn colour.
Head to Nikko, Hakone where you can view the foliage from the scenic Hakone Tozan Train. Around the temples of Kamakura, Kyoto, or Momijidani Koen in Miyajima you can see some wonderful examples. Or, of course, make your way into one of Japan's stunning national parks.
Eating Maple Leaves (Momiji)
Another culinary tradition revolving around trees is the eating of maple leaves. Tempura-fried maple leaves are a tradition in Minoo City, Osaka (also another great spot for Momijigari). A number of shops serve maple leaf tempura on Takido street, which leads to Minoo waterfall. Yellow leaves are salted, pickled and left for a year before being fried in a mild, sweet batter.
Of course, these tree traditions are just the tip of the branch. There is plenty more tree-related tradition in Japan to discover.
Find more sustainable travel inspiration in our guides.
Travel Inspiration and Inside from Positive Travel