4 Sustainable Travel Tips on how to Visit Thompson Okanagan
Spanning rocky mountain peaks, lakes, seeping grasslands and sun-soaked vineyards in Eastern British Columbia, Thompson Okanagan was certified as the first destination in the Americas to successfully achieve the Biosphere International and Responsible Tourism Institute Sustainable Tourism accreditation.
Including popular destinations in British Columbia such as Kelowna, Kamloops, and the Okanagan Valley, Thompson Okanagan offers an outdoor playground, that's perfect for skiing in fresh powder, to sampling some of North America's finest organic wines on a summer afternoon.
The region highlights the best of sustainable travel across its destinations, and has its own Regional Pledge: The Seven Affirmations for Seven Generations. The pledge reflects the indigenous philosophy that every action we take, has an impact that is felt for seven generations to come. The responsibility is on us, as travellers, to make sure our impact is as good as we can make it.
+Stay – Where to Stay in Thompson Okanagan
Quaaout Lodge & Spa, Shuswap Lake is a First Nations owned and operated lodge, set on the banks of Shuswap Lake, outside the small town of Chase north east of Kamloops. The resort is operated by the Little Shuswap Indian Band of the Secwepemc (Shuswap) Nation. It offers an indoor pool, beachfront, balconies overlooking the lake, and a golf course. It's one of the region's best places to get away from it all and re-connect with nature, as well as learning about the culture of the Shuswap Nation.
The "Land of the Great Spirit" has preserved an abundance of wildlife, as well as great fishing. The lodge invites visitors to arrive as guests but leave as friends, trusting them to treat the land and its people with respect.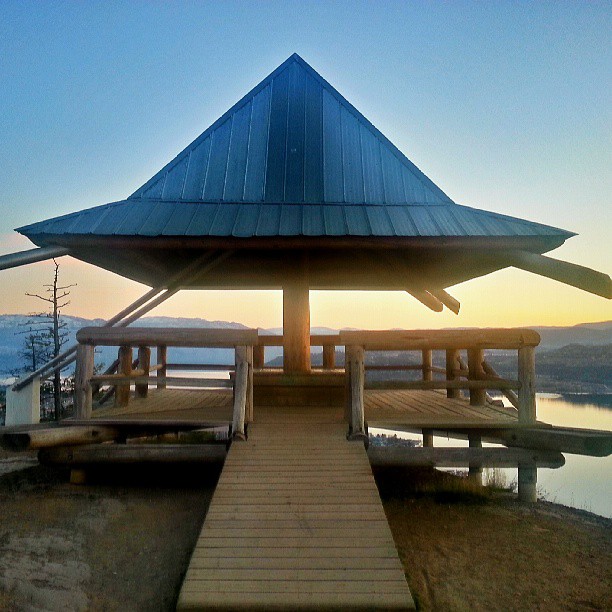 Summerland Resort – Located south of Kelowna on the banks of Lake Okanagan, Summerland is a member of Green Key Canada with a four key rating, and is committed to conservation and environmentally friendly practices.
The hotel features a geo-thermal system which draws naturally occurring heat from the earth to provide the hotel's cooling and heating systems, including heating of the year round outdoor pool and two hot tubs.
Summerland resort is located on the wetlands protected area and was consciously designed around incorporating the wetlands – without any adverse impact – into the resort through construction of a boardwalk. Guests can enjoy bird-watching as well as viewing other aquatic and plant life.
+See – Places to Visit in Thompson Okanagan
Covering a space equivalent to the size of Ireland, Thompson Okanagan is varied in its landscapes as well as the activities and places available to visitors. It's a year round destination, with plenty of winter sports available, as well as summer activities for those who prefer more warmth. We recommend a visit during autumn/fall months to avoid the summer crowds and see the beautiful fall colours in the region.
Wells Gray Provincial Park – This lesser known provincial park sits in eastern BC near the Alberta border, but with far fewer fellow visitors than other parks. The area is known for the dramatic Helmcken Falls, and Mount Robson – the highest peak in the Canadian Rockies. It's a great year round destination with dog-sledding, snow-shoeing in winter or hiking and rafting in summer. Wells Gray is home to spectacular wildlife viewing, you may get lucky enough to see bears, wolves, eagles and moose.
Thompson Valley & Kamloops – Central, mild Thompson Valley is an excellent place for mountain biking (in summer), trout fishing and ranch vacations, and the area is rich in culture too. Each year, the main town of Kamloops hosts the annual Kamloopa Pow-Wow, one of the largest celebrations of First Nations culture in Canada.
Okanagan Valley & Kelowna – The Okanagan Valley is one of Canada's top wine-producing regions and is home to several award winning vintages. There are several organic wineries to check out (see below) as well as farmers markets, and the area is popular for cycling and boating on the Okanagan Lake.
Beyond the wine, the region is also home to lavender fields and sage crops, making this the perfect summer destination. Okanagan's main town of Kelowna is a popular spot to make your base for exploring the region – but book well ahead for the summer months.
+Eat – Where to Eat & Drink Around Thompson Okanagan
Organic Wineries – One of the favourite things to do in the Okanagan Valley is head out wine tasting and visit some of Canada's best wineries. There are several wineries that are focused on producing high quality, organic wine such as Off the Grid Organic Winery – which, as its name implies, is completely self sufficient. They even offer yoga classes on Sunday, for before your wine. Summerhill Pyramid Winery is also Organic certified and a B Corp,  together with its organic bistro restaurant which serves local fare.
Craft Beers – It's not all about the wine! Thompson Okanagan's Craft Beer scene is thriving, so much so that the 'Ale Trails' have become (almost) as much a of a thing as the wine. Penticton was recently crowned as the #2 beer town in Canada (behind Vancouver). You can pay a visit to local breweries such as the Red Collar Brewing co in Kamloops or Okanagan Spring.
Farmers Markets – Most of the Thompson Okanagan towns are home to farmers markets where you can join the BC Farmers Market trail for the best of locally grown, seasonal produce, or just wash down a homemade cake with a coffee.
Edible Adventures – Try your hand at scavenging for local goodness across the Okanagan region at an event run by The Paisley Notebook who runs a series of outdoor foraging and indoor dining events where the focus is community and sustainably, locally sourced food.
+Move – Getting Around Thompson Okanagan
If you have time the best way to get to Thompson Okanagan would be by train from Vancouver to Kemloops. The famous Canadian train wizzes along some of the most spectacular scenery in British Columbia and stops at Kamloops North Station.
Public Transport is not readily available within the region, so it's all but necessary to rent your own car. Several car hire agencies offer the option of a hybrid vehicle, which you can hook up to the local charging points in Kamloops and Kelowna.
The main gateway towns of Kamloops and Kelowna are served by Westjet and Air Canada for flights within Canada and connections to international hubs.  However, if you really want to reduce your carbon footprint opt to take the train or drive from Vancouver.
Our Other British Colombia Posts
British Colombia In The Winter
Best Forests In British Colombia
Best Lesser-Known National Parks In British Colombia
British Colombia Wildlife Experiences
The Great Bear Rainforest In British Colombia
Best Islands In British Colombia
Travel Inspiration and Inside from Positive Travel