"I love to ride my bicycle" 5 reasons to ride a bike on your next trip
Have you ever considered exploring a place by bike?
From Copenhagen to Holbox, from Barbados to Kiva there is a growing movement to use bikes to explore places. From a leisurely stroll along Copacabana beach to whizzing along Padua's cobblestone medieval alleys, cycling is in vogue.
Here are 5 reasons you should pick up a bike next time you travel:
1. See places with new eyes – it is simply a perspective change, cycling lets you explore at your own pace with a trilling sense of freedom.

2. You have plenty of choice – The number of bike sharing schemes globally has increased 100-fold since 2005 and there is a staggering fleet of nearly 20 million bicycles waiting to be taken for a ride.
3. Keep calm, keep heathy– It is no secret that cycling is a healthier way of moving and often a faster alternative to cars and public transport. In a recent study 57% of people said their main motivation to cycle is to keep healthy and balanced.
4. Energy, Air & Noise– it takes 10 time less energy to produce a bike than a car. Switching from car to bike for a trip under 10km (6 miles) can cut down CO2s by up to 1'5t per person per year and improve air quality, especially in cities. And cycling reduce traffic noise for positive impact on human health and eco-systems.
5. The most efficient vehicle ever devised – A human on a bicycle is more efficient (in calories expended per kilo and per kilometer) than a train, truck, airplane, boat, car, or motorcycle. It is 3 times as efficient as walking.
In a nutshell, cycling is great for your health and the environment. So, no more excuses not to use a bike on your next trip.
3 amazing cycling inspirations
Here are 3 amazing cycling inspirations to experience and discover authentic places ethically and sustainably.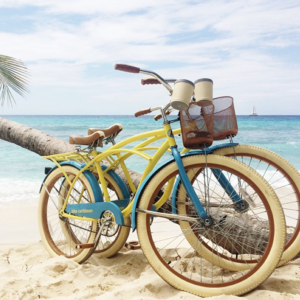 Bike Caribbean, Barbados
Explore the Caribbean with our +host Bike Caribbean use the bicycle as a means to connect with nature and local surroundings.
Green Bike Tours , Denmark
Green Bike Tours designs and perform guided tours focusing on the green and sustainable cities. They are present in Copenhagen and Malmø.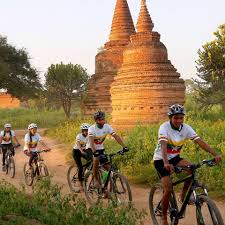 Grasshopper Adventures, Asia
Their tours are designed with the goal to make a positive impact on each destination. This means visiting NGOs and small local businesses along the way so you can travel with your conscience at ease. They operate in 9 locations in Asia.

Bike trivia:
did you know?
There are roughly 1 billion bicycles in the world, about twice as many as motor vehicles.
About 100 million bicycles are manufactured worldwide each year.
The country with the most bicycles is, surprise, surprise, China, actually nearly half of the world stock of bikes is in China!
The country that takes the most trips on a bicycle, is The Netherlands, near 1 in 3 trips are on bikes. And they boast an impassive cycling network of 32'000km
People are most motivated to cycle for health reasons and less for environmental (only 7%!!!)
The biggest barrier to cycle more is car traffic and poor cycling infrastructure.
Greener Mobility
Climate and the impact of travel on climate is one of our guiding principles, +principle 7. It is by far one of the most controversial issues when it comes to travel. And there is no black or white answer. This article is part of on series dedicated to GREENER MOBILITY. We will share stories, figures and will try to demystify the impact of transport on travel. We hope to steer a discussion and come up with practical tips to help confused, and maybe even guilty, travelers.