5 scenic and historical railway journey in Europe
Travelling by train can be a very ethical and sustainable option. It is far less damaging than flying to your destination. And the journey can be just as exciting as the arrival. To inspire you to enjoy your own railway journey, we've put together this list. Here are 5 amazing and ethical heritage train trips in Europe to consider .
Flåm Railway, Norway
Located at the end of Aurlandsfjord, Flåm is a small Norwegian settlement with a big reputation. Surrounded by steep mountains and thundering waterfalls, this village is a popular tourist destination, visited by many people each year.  Most people come here to take a ride on the Flåmsbana – the famous Flåm railway.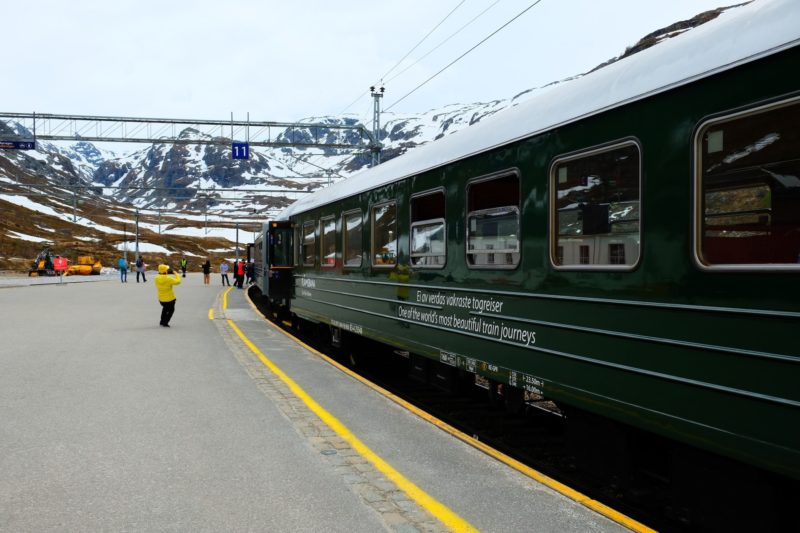 This railway, frequently described as one of the most scenic and spectacular train journeys in the world, will take you on the steep 20km ride from the banks of the fjord up into the mountains. This railway is the steepest in the world on a normal gauge track, and you will get some spectacular views as you climb the 863m to Myrdal mountain station. This is an experience that is not to be missed – a truly remarkable train journey. The Myrdal station is on the Bergen line, so you could consider connecting here with trains to Bergen, or  Oslo. Travelling by train is a more eco-friendly way to reach this hiking and outdoor adventure paradise than arriving on one of the cruise ships that ply this coastline.
The West Highland Line, Scotland
The West Highland Line in Scotland is one of Europe's most picturesque train journeys. You can travel it by regular train, or explore a portion of it on the Jacobite Steam Train. Travelling by train in Scotland is a far more eco-friendly way to get around than air travel or driving. And the stations along the route all give access to a spectacular landscape that can be explored in a range of wonderful, sustainable ways. Read more on sustainable travel in Scotland.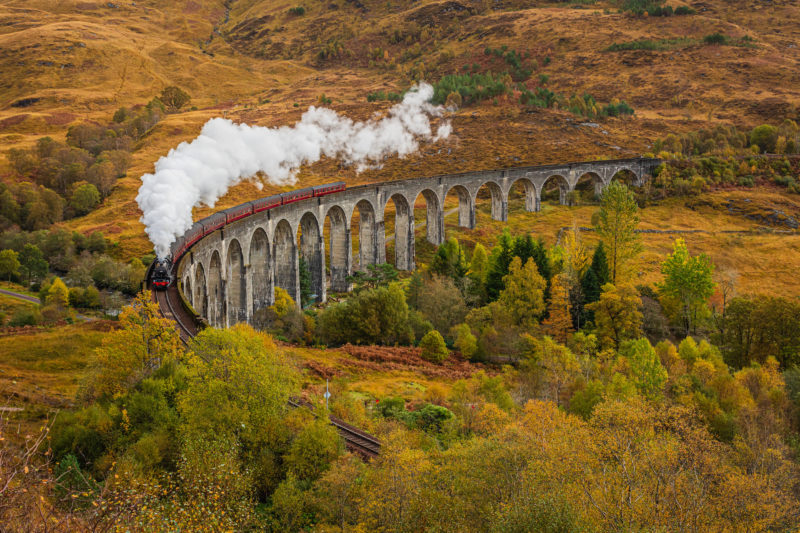 For example, you could take a hike on amazing Rannoch Moor or climb the highest peak in the British Isles – Ben Nevis. In summer, you could swim from one of the beautiful west coast beaches. In winter, more amazing eco adventures await. This route is beloved of Harry Potter fans and many famous sites can be seen along the route. To extend your adventure, consider heading from Mallaig, at the end of the route, to visit some stunning and sustainable islands.
Gorge de L'Allier, Paris – Langogne, France
Take the tourist train to see the spectacular Gorge de L'Allier, or see it as part of the long, langorous trip from Paris to the Central Massif. Those who take this train ride have marvellous views as the train passes over numerous bridges over the wild gorge, which cannot be seen by car as there are no roads going through it. The wild gorge with the river running through it will remind you of parts of the Canadian wildernesses.
There are a wide range of heritage train trips to enjoy across France. But this one is great for those who love to enjoy a sustainable vacation off the beaten track. Not only will the route allow you to see some stunning scenery. It will also allow you to venture into France's 'diagonale du vide' (diagonal of emptiness) and on to the Massif Central – one of the least populated parts of the country. Many long distance hiking and biking trails take advantage of the relatively unspoiled and unpopulated nature of these mountains. Try walking routes along the granite formed Aubrac, the barren, limestone Causses, and the volcanic uplands of the Chaîne des Puys.
Glacier Express, Zermatt – St Moritz, Switzerland
Switzerland is a wonderful country for nature lovers and outdoors adventurers. And the Swiss certainly know how to deliver an excellent railway journey. There are many great routes around the Alpine region. But this is perhaps one of the very finest heritage train trips to take.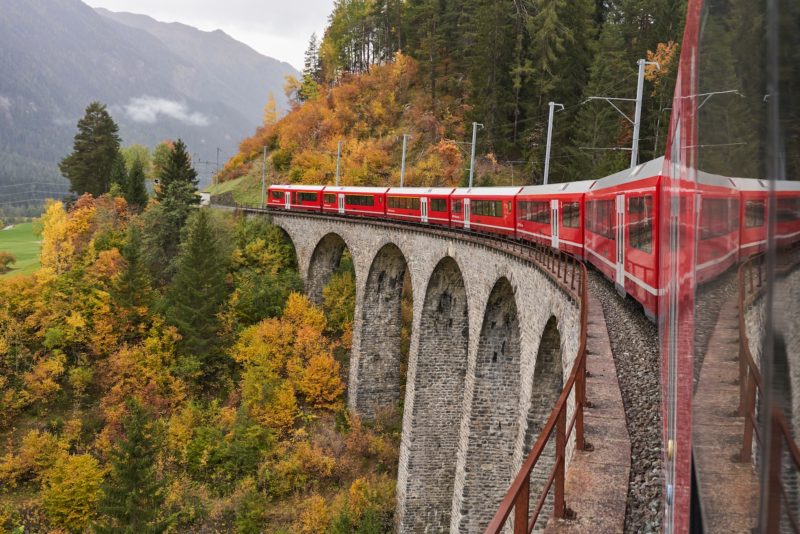 The route is a feat of engineering that has made the UNESCO world heritage list. It travels from the Matterhorn to Piz Bernina mountains over 291 bridges and through 91 tunnels. You will take almost 8 hours to complete this 300km route. But the time is well worthwhile for the stunning scenery. Again, this route gives access to some truly stunning hikes, as well as other forms of green outdoors recreation.
Linha Do Douro, Portugal
Linha do Douro is a leisurely and meandering route that runs from Porto to Pocinho along 120km of riverside track. A historic railway route, this train ride up towards the Spanish border along the Douro river is definitely one to consider. It once crossed the border into Spain from where it was possible to get a through service to Salamanca or Madrid in the heyday of railway travel. Now many branch lines have been closed but this is still an amazing route with more than 20 tunnels, 30 bridges and 34 stations. Trains run from Porto three times a day.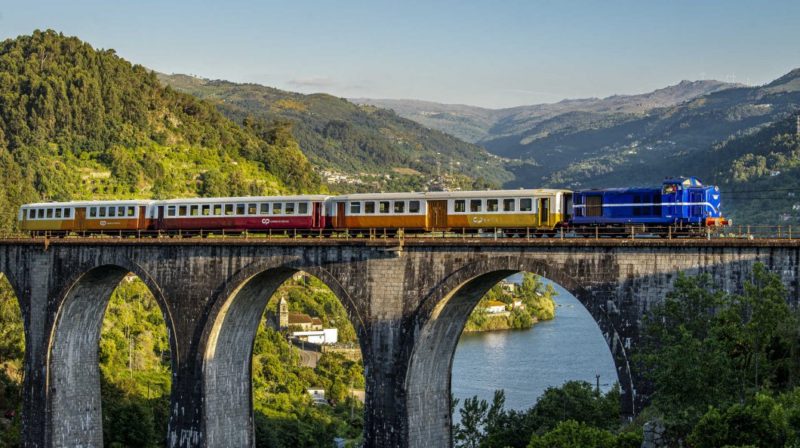 A ride on the Linha do Douro is perfect for combining with a hiking holiday. You could start off with a day or two rambling around historic Porto before hopping on the train. There are many useful stations that give access to some areas that are perfect for a walking holiday, enjoying the great outdoors. To get onto the best section of the line, along the Douro gorge, you change trains at Régua when you have come from Porto. You could hike in the gorgeous vineyards along the Douro river, well off the well-beaten tourist track.
Of course, there are many more amazing and ethical heritage trail trips to consider around Europe, and around the world. So before you decide where to go on your next adventure, think about how you might avoid air travel or driving and instead take a train trip to reach the beautiful, natural locations you travel to see.
Travel Inspiration and Inside from Positive Travel