4 alternative and ethical ways to cruise along the Amsterdam Canals
Amsterdam could be a city coming out of Italo Calvino's classic book Invisible Cities. Picture a beautiful sunset illuminating the sky in vivid oranges and yellows. Fairytale houses lined up along the canals and rustic bridges connecting tiny islands. In fact, the city boasts 1500 bridges, connecting 90 man-made islands and hundreds of kilometers of canals. So, what better way to explore it, but by boat?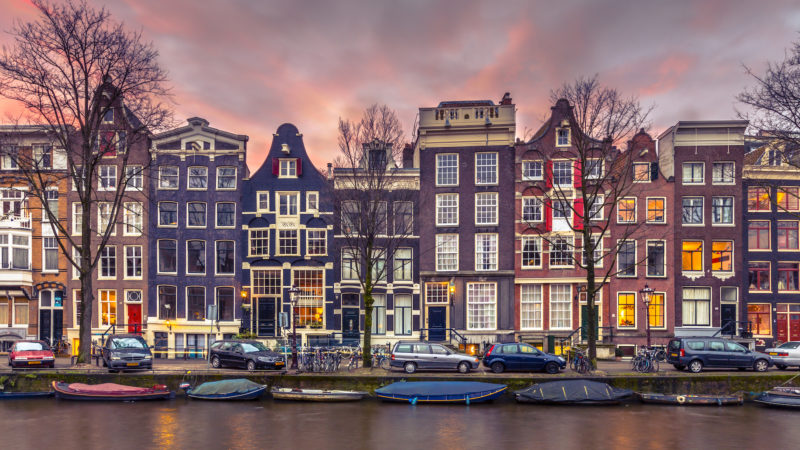 There are about 200 tourist boats cruising the Amsterdam canals each day. So the question is which one to choose?
When considering the alternatives think of the following. Sustainable travel is possible in the Netherlands. You can have fun and make a positive difference to Amsterdam, its people and the environment. Take a pick.
5 reasons to take an alternative canal tour in Amsterdam
Avoid the crowds
Canal tours attract a staggering 3 million passengers a year. Just to put this into perspective this is the amount of visitors Iceland gets in a year.
So, if queuing for an hour, even on a rainy day, is not your favorite pastime, you will most likely want to avoid the crowds and the larger tour operator. They tend to run "mass production", "high volume" and standardised canal tours. Including all the usual perks attached to them: loudspeakers or headphones and recorded guides in several languages. If you want a more friendly and personalised canal trip go for one of the below.
Go back in time, Perpetuate Heritage
There are several heritage and historical boat operations in Amsterdam. But most of them run exclusively private tours. However, if you want to experiences an authentic and historic boat ride that does not break the purse try Rederij P. Kooi.
They are a family business which has been in operation for almost 100 years. Stepping on board is like stepping back in history. And not only that, they have their very own wall of fame. From Winston Churchill to Eleanor Roosevelt and the Apollo 11 astronauts have roamed the Amsterdam canals with Rederij P. Kooi.
Get the inside stories from the locals
Hop of a boat that is run by Amserdamers and you will get to see a completely deferent side of the city. In addition, your money will go to the local economy, our +principles 12.
One such operation is Boat Trips by Locals. Their cosy boats have a capacity of 10 to 20 passengers. Also, they pride themselves on telling the city's tales personally and showing the best spots in Amsterdam, including canals bigger boats can't reach. They also have several electrical powered boats.
Contribute to a good cause with a twist
Alternatively, you can discover the hidden gems of Amsterdam sailing like a refugee with refugees. These sailing tours focus on the role migrants have played in the making of Amsterdam.
Rederijl Ampedusa has pulled two former migrant boats from the Mediterranean to Amsterdam. They run the most inclusive, the most colourful and probably the most sympathetic canal cruise company of the city. Their crew is with roots in Syria, Somalia, Eritrea, Egypt and the Netherlands. You can also donate to help them keep sailing.
Take a cruise with a little green touch
However, if you want to have a real positive impact on the environment with your canal tour, roll up your sleeves and start fishing. Literally! Plus, it is a lot of fun.
Plastic Whale takes you on a plastic fishing expedition. But this is no ordinary sailing adventure. You will be on a mission to collect as much plastic and junk form the canals to make beautifully design furniture. Welcome to the age of the Circular Economy!
You can also catch one of the solar powered boats by Boat Trips by Locals.
Trip tips
In this article, we are featuring 4 Amsterdam ethical and eco-friendly canal tours. All of them are either not-for profit, social enterprises or local family run businesses. Their mission and values are deeply rooted in authenticity, sustainability and ethics.
When you travel think of the impact your trip has and if there is any way you can spend your money and time in a way that will help local communities and the environment.
Share with us your ethical and sustainable trip experiences, in Amsterdam and all around the world!
Travel Inspiration and Inside from Positive Travel