The best train trips ideas in Scotland
Sustainable travellers know that train travel can be a far more eco-friendly way to get from A to B than flying or driving in a fossil-fuel powered vehicle. Train travel in Scotland will not allow you to see every part of the country.
To get a closer look, and truly explore Scotland's rugged terrain, you will need to get off the beaten track and hike or take other non-motorised means of transport. But trains in Scotland will take you to many beautiful destinations.
Why Travel By Train in Scotland?
Sustainability and green travel considerations are not the only reasons to take the train. Taking the train in Scotland is generally the quickest and easiest way to get between the main cities and many of the major towns.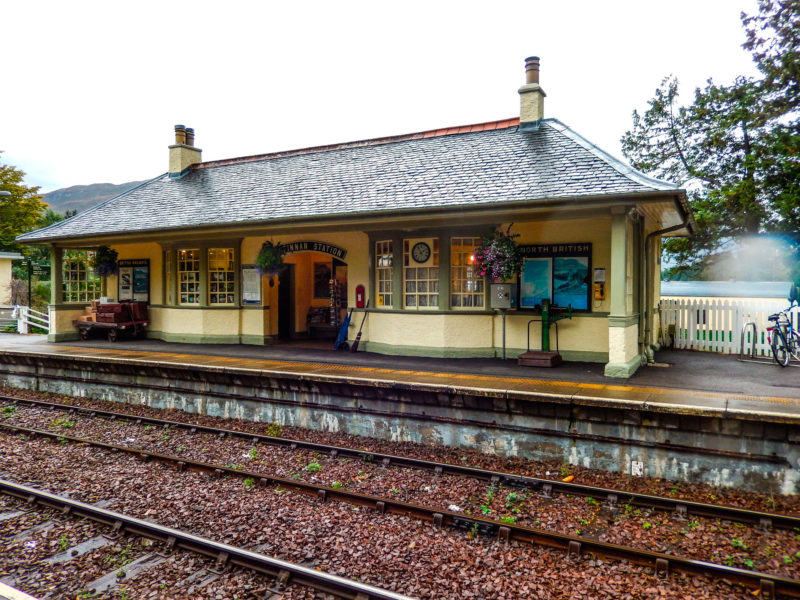 Travelling by train in Scotland will also give you the opportunity to travel through some of Europe's most stunning landscapes, on some of the UK's most scenic railway routes. Sometimes, the train journey will be more than just a way to get where you are going. Some of Scotland's train journeys are famous attractions in their own right. Read on to learn more about what you will discover when you take the train in Scotland.
Main Train Routes in Scotland
If you are arriving in Scotland by train, you will have travelled on either the West Coast Mainline, or the East Coast Mainline from England.
The west coast mainline heads north from Carlisle across the border, and up to Glasgow Central. Further train lines head up through Dumfries and Galloway into the (more densely populated) Central Belt. From Glasgow Central, routes also head south to link up with ferry routes to Northern Ireland, and to Scottish islands and peninsulas in the south west of the country.
The east coast mainline heads north from Newcastle, crossing the border just after Berwick Upon Tweed and skirting the coastline to reach Edinburgh Waverley.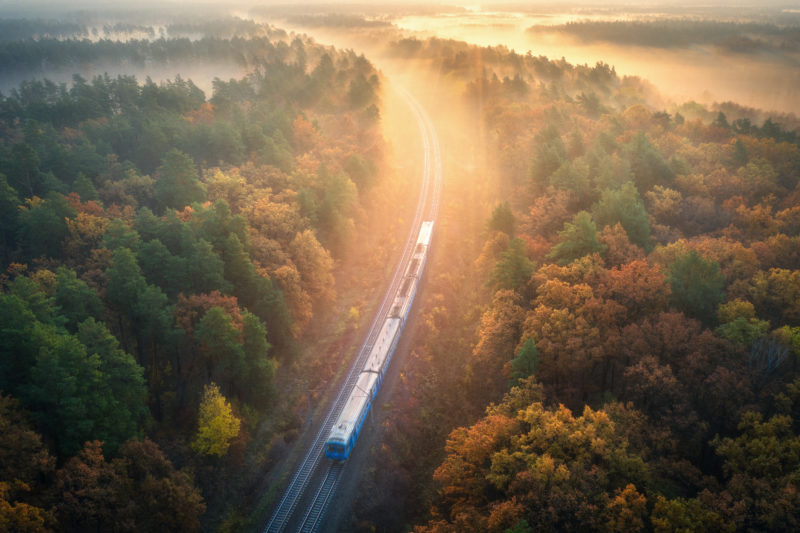 Many train lines fret through the towns and cities of the Central Belt. In Glasgow, a short walk will take you from Central to Queenstreet Station, for journeys north. In Glasgow, there is an underground railway (The Clockwork Orange). It offers a quick and easy way to get around the city. From Glasgow, you can take the western train route to reach Oban (for ferries to the Western Isles) or head further north via Fort William to Mallaig (with further ferries to Scottish isles).
From either Glasgow or Edinburgh you can reach Stirling – gateway to the Highlands. You can head further north east to reach Perth, Dundee and Aberdeen, or make your way north to Inverness and beyond, all the way up to Thurso or Wick, or north and then west to Kyle of Lochalsh (for the Isle of Skye).
From Edinburgh you can take the Border's Line south to Tweedbank. You can also head north into Fife across the famous Forth Rail Bridge – a UNESCO world heritage site that dates from 1890. A couple of routes wind through Fife and cross the River Tay to reach Dundee or Perth or continue to points further north.
The Most Scenic Stretches of Railway in Scotland
While many train journeys in Scotland are stunningly scenic, without a doubt the best known and most loved is the West Highland Line between Glasgow and Mallaig.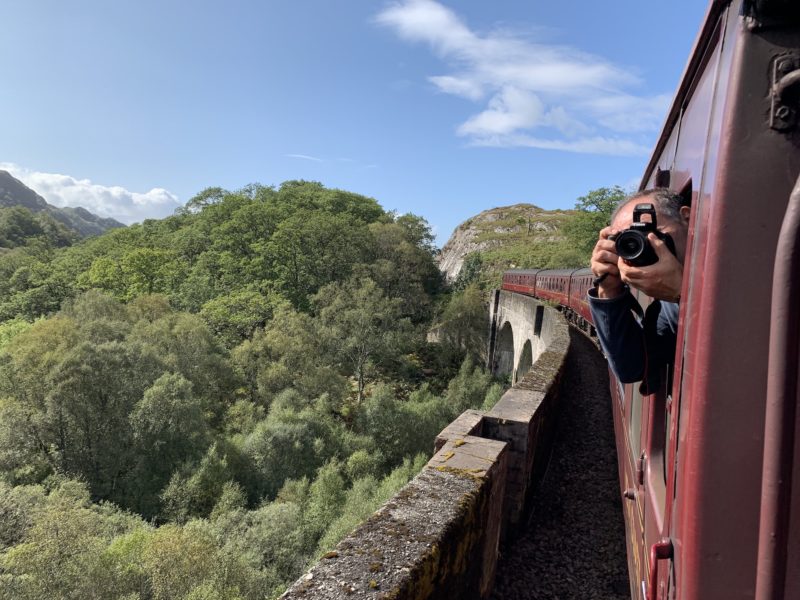 The West Highland Line
The sweeping vistas, soaring peaks and glistening lochs make this one of the most famous railway routes in the British Isles. The whole route from Glasgow to Mallaig takes around 5 hours and 15 minutes. It is famous around the world as the railway taken by Harry Potter and friends to reach Hogwarts. But eco-conscious travellers will also enjoy the options it opens up for hiking and other sustainable adventures in the western Highlands.
Rannoch Station, on this route, gives access to the awesome mountain plateau of Rannoch Moor. It is one of the most remote stations in Scotland, with nothing for miles around but a small tearoom, and miles and miles of pristine moorland trails to explore.
Further north, after further breathtaking views, you will emerge in Fort William – the starting point for many adventures, including a climb of Ben Nevis – the tallest peak in the British Isles.
After Fort William, you will cross the famous Glenfinnan Viaduct, and can consider a stop in Arisaig to enjoy two of Scotland's best beaches, Arisaig Beach and nearby Camusdarach.
Finally, sustainable travellers can consider taking ferries from Mallaig to reach Skye, but also the incredible Sma' Isles – Eigg, Muck, Rum and Canna. Eigg is particularly interesting for those interested in sustainability. Purchased by the community in 1997, Eigg is entirely energy self-sufficient. The island's power comes from a mixture of renewable sources – solar panels, wind turbines and hydroelectric schemes. The Small Isles form an idyllic, wild archipelago off Scotland's West Coast. They are not only an area of outstanding natural beauty and an eco destination par excellence, they can also give us a model for green living.
Other Scenic Routes to Consider 
–      The Far North Line (Inverness to Thurso and Wick) – a rural and wild, less visited route.
–      The Kyle Line (Inverness to Kyle of Lochalsh) – small settlements and untouched wildeness views, with the change to spot a range of wildlife from the train.
–      Carlisle – Kilmarnock – Glasgow Line – to see the best of Ayrshire and Dumfries and Galloway. Or the beautiful west coast journey from Glasgow to Ayr and Stranraer. These are less visited parts of the country. (Consider stopping off and heading on into Galloway Forest Park to enjoy excellent stargazing and some of the darkest skies in the British Isles.)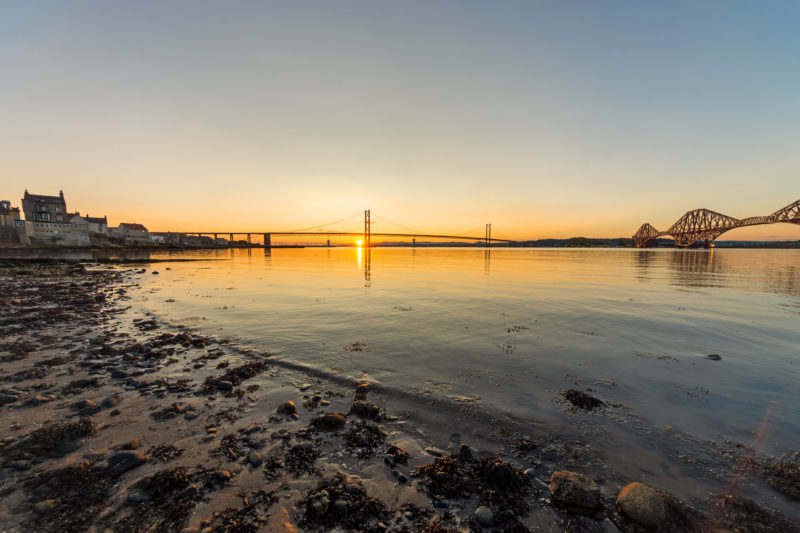 –      Cross the Forth Rail Bridge from Edinburgh into Fife, for elevated estuary views. Stop in Leuchars and head on by bus to explore the historic University Town of St Andrews and enjoy walks along the coastal path between the stunningly picturesque villages of the East Neuk.
Stream Trains in Scotland
There is something special and romantic about a steam train. In Scotland, you can choose between a number of iconic steam train trips and excursions. For example:
–      The Jacobite Steam Train (on the West Highland Line from Fort William to Mallaig).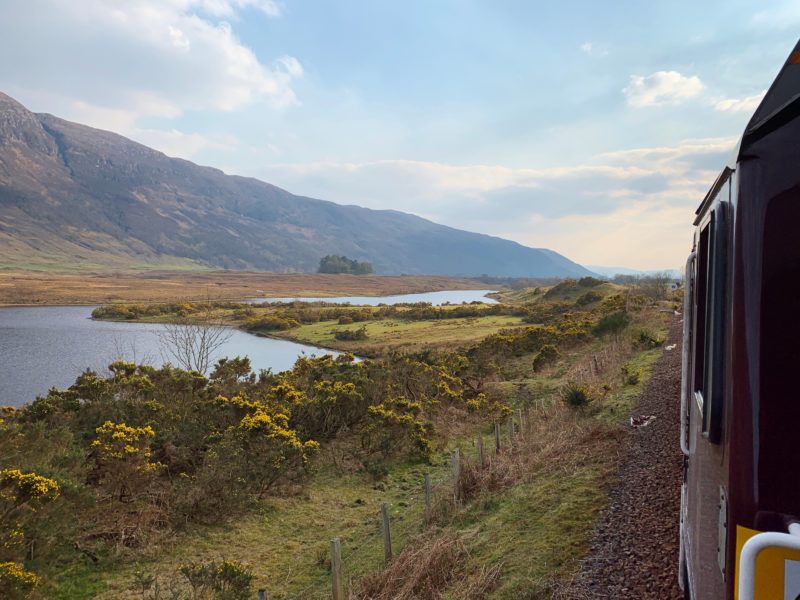 –      The Strathspey Steam Railway (a 90 minute scenic trip from Aviemore to Broomhill and back again). Be sure to stop off to spot osprey and other wildlife at the Boat of Garten RSPB Reserve.
–      Steam trains on the Borders Railway from Edinburgh to Tweedbank on certain days in summer. There are plenty of historic sites and outdoors activities to enjoy along this route.
Belmond Royal Scotsman
If you are looking for the Scottish train trip of a lifetime, a journey on this luxury traincould be something to consider. There are a number of different itineraries to choose from.
Cairngorm Funicular Railway
One final train to mention is the special funicular railway that formerly carried visitors up Cairn Gorm Mountain, near Aviemore. Sadly, the railway, which opened in 2001, had structural problems and was forced to close. It's future hangs in the balance and decisions are yet to be made about how and when it will be repaired. It is to be hoped that it will reopen before too much longer, since it was unique amongst Scottish trains for allowing access for all to this stunning spot, with outstanding vistas over this part of the Cairngorms National Park.
A train journey in Scotland can be a truly outstanding experience. Wherever you choose to go, travelling by train will allow you to access sustainable adventures across the country.
Travel Inspiration and Inside from Positive Travel